Owner/CEO
Candice Wagner
After a 5-year battle with an eating disorder that had taken over much of my life, I discovered CrossFit. It wasn't long after falling in love with the methodology, the community, and the ways doing CrossFit made me FEEL when I realized I was no longer obsessing over food and exercise like I had been. Just like that, my focus shifted from disorder driven behaviors to supporting this new lifestyle I was excited by, and I've never looked back! During the first 10 years of my CrossFit journey I was an athlete first. I spent most of my time training to be the best athlete that I could be. I chased that dream and I lived that dream, but somewhere around the 8-year mark, that fire inside of me began to burn out. Around this same time, I learned that the business was also headed down the path to failure. We had holes in the walls, concrete floors, a very different culture, and a host of other big challenges. I even remember a member at that time say to me, "It doesn't feel like a community here," and that dug at me. I went home that night, went on our social media, and changed our mission statement to read, "We are a community first," but I didn't know what that meant yet. Slowly but steadily, we began to turn things around, but as the end of 2019 rolled in, just days before becoming the sole owner and 5 months out from our rebrand, I entered the darkest period of my life. Despite my experience in the sport and the habits that were deeply engrained in my being, I stopped taking care of myself and the CFIH community took notice. I remember getting several calls and texts, and in one single moment it hit me like a ton of bricks, "That's what community first is!" It was the break through I needed because I realized in that moment that it doesn't matter how disciplined or how fit you are, what you've accomplished, what your struggles are, or what you're working towards, we all go through hardship in life! And when times get tough you need a community of like-minded individuals there to support you, to help you get back up on your feet, and that's exactly what this community did for me. Since that realization, CFIH has grown into the powerful community that it is today! My mission is to help others see what they're truly capable of, to help them learn, grow and succeed, all while expanding our impact using fitness as a vehicle. As a team, we pride ourselves on our warm and welcoming culture, our professionalism, the member experience and our hunger to learn so we can help our members transform their lives. At CFIH, we are a community first! Our mission is to help our members live happier, healthier lives! Thank you for putting your trust in us as your coaches and for allowing us the opportunity to do what we love on a daily basis. We cannot thank you enough!
CERTIFICATIONS Robbins Madanes Trained Coach CCFT-L3 CF HQ Level 1 Seminar Staff CF Running & Endurance CF Olympic Weightlifting CF Lesson Planning CF Self-Defense CF Powerlifting CF Gymnastics CF Strongman CF Competitor CF Barbell CF Kids
Nutrition Coach & Private/Group Coach
I attended my first CrossFit class to be supportive of a friend and never intended to take another class much less become a coach. Since that first class, I have changed. Changed from a person who was motivated by appearance and performance, to being motivated to stay healthy and strong as I age. CF teaches me how to be a better person in all areas of my life. Through patience, hard work, community and continued growth, CF has guided me to becoming the best possible version of myself.
CERTIFICATIONS CF Level 1 Precision Nutrition Level 1 Certified (Pn1)
General Manager, Private/Group Coach
Sports have always been a huge part of my life, and while I love competing, athletics has always been my center for community and friendship. While in college at the Air Force Academy, I competed on the D1 triathlon team and I loved both the sport itself and the people who pushed me to show up, work hard, and better myself daily. When a biking accident in 2018 led to my hip and femur being shattered, I was told both my military career and days of competing were over. Despite the toll this took on me physically and mentally, my community was what pulled me through. I couldn't have done it without them. Almost two years ago, I heard about CF for the first time and was intrigued by the diversity of skills required for this sport; however, what really intrigued me was the community. My first workout humbled me (to say the least), yet people came around high-fiving me, and encouraging me anyway. I also loved how accessible it was for people at every level of fitness. Every single movement could be modified to keep me safe while my hip was still healing, and that never took away from the competitive atmosphere I craved. I loved that no matter someone's strength, ability, or background, CF could meet them where they are and everyone could get after challenging and fun workouts together. I was immediately hooked. I am grateful today to be part of one of the most uplifting communities out there and encourage others to fight for their potential every day.
CERTIFICATIONS CF L-1 Integrative Nutrition Health Coach
Group Coach
As a veteran of the U.S. Marine Corps, I was first introduced to High Intensity Interval Training (HIIT) in 2014. I knew immediately that I wanted more and thus began my journey into CrossFit. I think like most members, the intimidation to join a gym and working out with these high-level athletes held me back for longer than I care to admit. For years I consistently tried to get my fitness fix through self-training at "Globo Gyms" but there was always something missing. As the global pandemic began to recede, me and my fiancé Hazel made the decision to walk into CrossFit Iron Horse and we've never looked back. The instant gratification of fitness, community, and positive energy sparked a new flame in me and has created friendships and personal achievements that I will forever be grateful for. While I do enjoy the challenge of every movement in CrossFit (minus burpees) I must admit that chipper style workouts are my favorite. There's just something about seeing a lot of work on the whiteboard and knowing that this is going to be painful but its going to feel so good at the end. As I continue to evolve in this sport, one thing will always remain the same, my why. My children are my why and are the reason that I consistently strive to be a better person, athlete, and father. Having seen firsthand the results of a sedentary lifestyle and bad nutrition, I want to be the example to them that happiness is a choice and is achievable through hard work and good moral character.
CERTIFICATIONS CF Level 1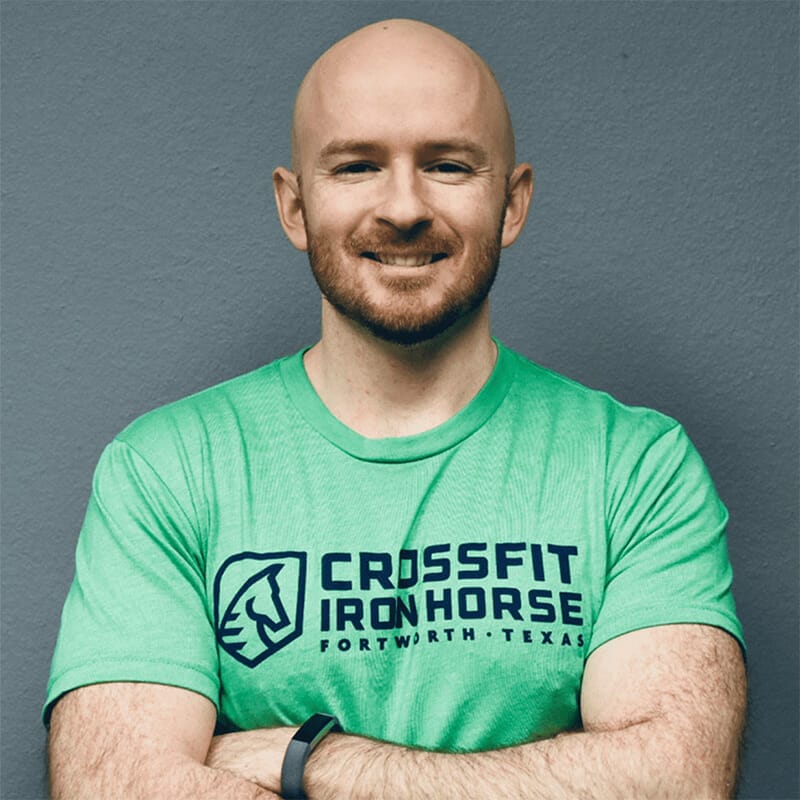 Group Coach
I do CrossFit to be a positive role model. To show my kids that being fit should be the norm, not the exception; and to show my family that fitness is attainable for anyone. I do CF to be as healthy and active as possible, for as long as possible. I will never tell my kids to slow down because I can't keep up. I plan to dance with my wife at our great-grandkid's wedding. I refuse to miss out on an experience because my body is too fragile. I do CF so I am comfortable with the uncomfortable. Choosing short term, fleeting discomfort, for long term, lasting reward is a skill that is practiced every day I show up at the gym. I do CF for myself. I wake up each day excited about the way I feel, the way I look, and always ready to get better.
CERTIFICATIONS CF Level 1 CF Level 2 CF Level 3 CF Gymnastics CF Gymnastics 2 CF Football
Rehab Specialist & Private Training Coach
I tried CrossFit for the first time in 2017. I had played sports my whole life, and sought out that competitive environment I missed. I had competed in powerlifting for a while and loved the strength aspect, but I missed feeling fit enough to run down a court or field. CrossFit was the perfect combination of strength, fitness, endurance, competitive spirit, and camaraderie I used to have in sports. I love that CrossFit meets an athlete where they are. There are always adaptations and modifications based on your current abilities and skill level. This is a big part of my "WHY". I had been coaching CrossFit and started taking it much more seriously , trying to compete when I was involved in an accident on a horse and broke my back in 5 places. Had it not been for my fitness and muscle mass, this would have been an even worse scenario. When I finally healed up I had to start from ground zero, but with CrossFit it wasn't a problem. I was able to (and still do) modify movements as needed to fit my capabilities. I moved to Fort Worth not knowing a single person. I came to Iron Horse on a week-long trial, with the intention of testing several gyms before committing to one. I took three classes and knew I didn't need to see anywhere else. Even though I was terribly shy and would come in, choose a corner square, workout, and immediately leave, everyone made me feel welcomed and I loved the environment in the gym. After a few weeks of attending, Coach Josh grabbed me and pretty much said who the heck are you and got me out of my shell. He helped me find a partner for SummerSlam and was always the welcoming face I could talk to at the 11:30 class. Now, less than a year later, the gym is my second home here in Fort Worth and has been where I've found a renewed love for my fitness as well as built amazing friendships.
CERTIFICATIONS Certified Personal Trainer Licensed Massage Therapist Board Certified Clinical Rehabilitative Specialist Board Certified Orthopedic Manual Therapist Certified Nutritionist in Sports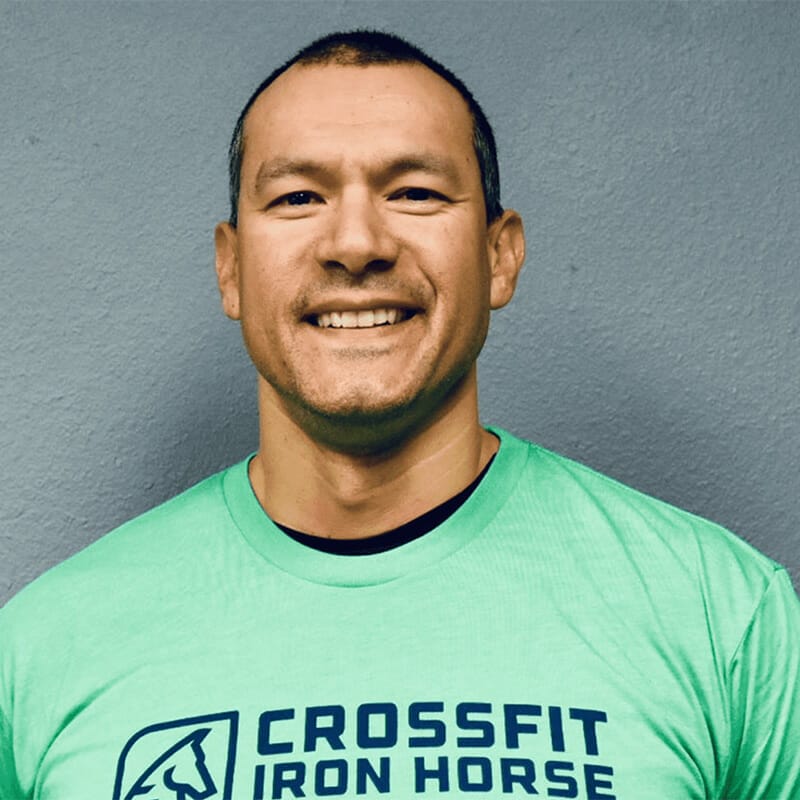 Group Coach
We all need to ask ourselves why? Why am I getting up at 4:30 am to workout? Why am I hitting the gym after a long day of work? Why am I suffering like this? Your WHY will get you in the gym when you don't feel like going, it will push you to get in one more rep before time expires, it will give you the focus you need to get that new PR. Find your WHY and use it as fuel for your CrossFit journey.
CERTIFICATIONS CF Level 1 CF Rowing CF Olympic Lifting CF Football CF Gymnastics
Get Started
Click the button below to book a free consultation. See if CrossFit Iron Horse is right for you.
Fill out the form below to get started
Take the first step towards getting the results that you want
FREE CONSULTATION